Emery Oleochemicals Launches New Interactive Website for Green Polymer Additives Business Unit
DÜSSELDORF, GERMANY (Mar. 29, 2017) – Emery Oleochemicals, a global specialty chemical manufacturer, announces an updated website for its Green Polymer Additives (GP) business unit.
As part of the ongoing efforts to optimize our online presence and to offer improved features to our customers and website visitors, a new GP section has been launched within our corporate website. It can be accessed at:
http://greenpolymeradditives.emeryoleo.com/additives/
Key highlights of this new GP section include:
New product finder, where you can easily search through our GP product offerings by function, by polymer or by product name,
Expanded application, industry, product and technology capability information, including a link to the newly created GP video which showcases our beading technology,
Dedicated customer area, where registered customers can directly download GP product technical data sheets.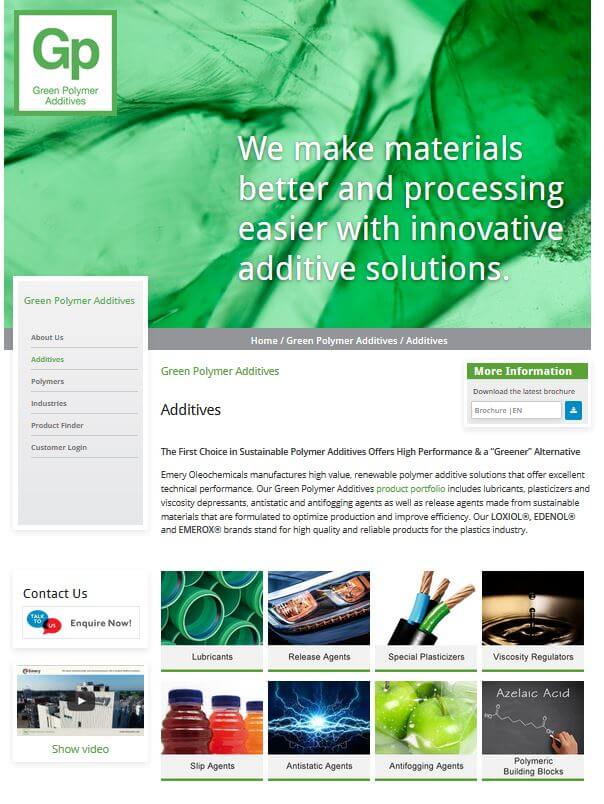 About Emery Oleochemicals Group
Emery Oleochemicals Group is a leading producer of natural-based chemicals made predominantly from natural oils and fats such as plant-based oil and tallow. We offer an extensive product portfolio, including renewable solutions for the Agro Green, Bio-Lubricants, Eco-Friendly Polyols, Green Polymer Additives, Home & Personal Wellness and OleoBasics markets. With revenue of US700million (2015), the company is headquartered in Malaysia and has manufacturing plants and Technical Development Centers spanning three continents – North America, Europe and Asia Pacific. Emery Oleochemicals′ global operations are supported by a diverse workforce and an extensive global distribution network covering over 50 countries worldwide. For more information, visit https://emeryoleo.com.