Combining Entrepreneurship & Innovation
Our Commemorative History: Influencing the natural-based chemicals landscape for 175 years.
Thank you for visiting our 175 Year Commemorative website looking back at our company history when we celebrated being in business for 175 years as of 2015. We invite you to take a look back at how our company has evolved from our humble beginnings in 1840. We have accomplished much since then and continued to grow as a pioneer in sustainable products in our journey to become the world leader in value-added, natural-based chemicals. Our company's ongoing progress and innovations from 2015 and beyond can be found in our current News section.
Let the history lesson begin...
Emery Oleochemicals is recognized for the successful development of high quality, natural-based chemicals - a business that began from a storefront that manufactured and produced tallow for oil lamps in Cincinnati, Ohio, USA in 1840. In the 175 years since then, we have undergone significant expansion and growth, and have seen various iterations through mergers and acquisitions. Throughout, we have continued to supply high-performance, natural–based chemicals to our customers worldwide. Today, we have over 3,000 products and a constantly growing portfolio of leading product brands.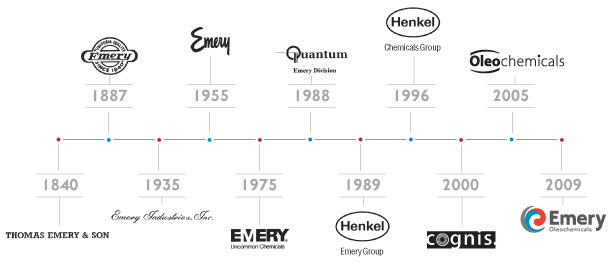 ---
Discover the journey of a global brand
Throughout the existence of Emery Oleochemicals, the one constant has been our spirit of entrepreneurship and benevolence inherited from our founder, Thomas Emery Sr. Read about our rich history that tells the story of a business with a heart, and the like-minded people who made it so: