Eco-Friendly Polyols for Urethanes
Engineered for Performance, Sustainable by Nature™
More Information
Download the latest brochure and other reading materials.
Emery Oleochemicals' polyester polyols are engineered to provide the urethanes industry with economical, high performance and sustainable solutions that easily integrate to improve your formulation. Key benefits include:
Hydrophobic backbone for superior moisture resistance
Security of supply through backward integration
High bio-based content (48 - 99%), certified by the U.S. Department of Agriculture's BioPreferred® Program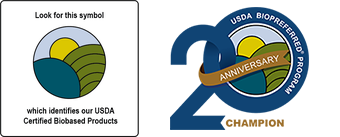 In 2022, when the USDA BioPreferred® Program celebrated it's 20 Year Anniversary as the Federal Government's official advocate and market accelerator for biobased products, Emery Oleochemicals is proud to be recognized by the USDA as a BioPreferred Program Champion.
View our comprehensive portfolio of products below. Contact us to learn more about what our Eco-Friendly Polyols can do for you.
Our Solutions by Product
Our Solutions by Industry Application
Innovation, Sustainability & Security of Supply
Emery Oleochemicals is the largest oleochemicals and natural acids manufacturer in the Americas. Our site located in Cincinnati, Ohio, USA, has been operational since 1885. It is home to pioneering acids manufacturing technologies and a Specialties Technical Development Center which supports a new polyols plant investment built in 2015; ensuring vertically-integrated supply and unparalleled capabilities honed over a century of technical excellence and service to our global customers.