Emery Oleochemicals Supports Great Oaks Career Campuses with One-of-a-Kind, Concept Car Donation
Unique, custom-built vehicle will be showcased as part of automotive technology program
CINCINNATI, OH, USA (June 24, 2019) - What was once a vehicle built for use at exhibitions to showcase how EMEROX® and INFIGREEN® Eco-Friendly Polyols can be effectively utilized in the creation of foam for multiple components of an automobile, Emery Oleochemicals' CASP R2 Car (Concepts for Advanced Sustainability in Polyurethanes for Renewable and Recycled solutions) is getting a second life as a training platform for future automotive technicians and mechanics.
Emery Oleochemicals, a leading global manufacturer of natural-based specialty chemicals that was founded in Cincinnati, Ohio in 1840, had the CASP R2 Car custom-built in 2014. The full-sized sedan was recently retired from use and it has found a new home through Emery's generous donation of the car to the Great Oaks Career Campuses, which specializes in career and technical education for both high school students and adults throughout the Cincinnati area through its four campuses.
"After being an eye-catching display for many years, we decided that the best use for this vehicle now would be to provide a local school that has automotive-related programs with an invaluable training resource," said Mark Kinkelaar, Eco-Friendly Polyols Global Business Head at Emery Oleochemicals. "Over our nearly 180 years in Cincinnati, local universities, community colleges and career centers have been important resources for hiring qualified employees who are critical to the ongoing success of Emery's business. Therefore, it is fitting that we find a way to give back to the local community."
Eric Morris, Instrumentation & Electrical Supervisor, North America, who oversees a department of 14 employees at Emery's Cincinnati Plant, contributes his current success in part to his early studies at Great Oaks. "I studied industrial electronics at the Diamond Oaks Campus before computers were used to control processes. The control systems we used then transformed into the digital controls of today but still use the basic building blocks. In my field of work, technology is always changing. Learning every day keeps you ahead and informed," said Morris. "Technical schools are the fast track to good employment opportunities. Skilled trades have high paying wages and are always in demand," Morris added.
Andy McCool, Dean of Instruction at the Great Oaks Diamond Oaks Campus, accepted the car on behalf of the school where it will be utilized to help instruct current students as part of their automotive technology program.
"We appreciate the generosity of Emery Oleochemicals for their donation of this unique vehicle to our Great Oaks Diamond Oaks campus. Our automotive program has been looking for a car to be able to physically show our students the inner workings and this full-size cutaway model is ideal for that purpose once we build it out with an engine and other relevant working components," said Mr. McCool. "It's also an impressive looking display that we hope will inspire future generations to want to study at our campus."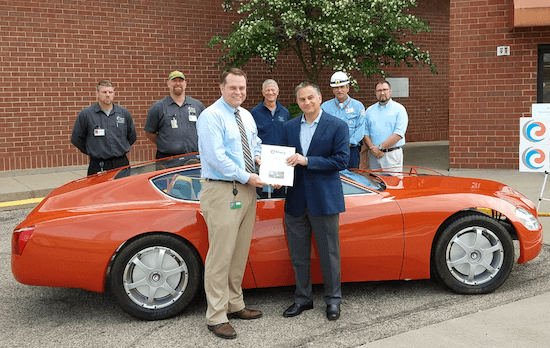 Andy McCool (front left) accepts the CASP R2 Car donation from Mark Kinkelaar (front right)
Since its founding in 1840 as a candle and lamp oil manufacturer in downtown Cincinnati, Ohio, USA, Emery Oleochemicals has grown into a leading global manufacturer of natural-based specialty chemicals. At its production, sales and research & technology development site located in Cincinnati, the company employs over 330 people from the Greater Cincinnati area which includes southwest Ohio, northern Kentucky and southeast Indiana.
About Emery Oleochemicals
Established in 1840, Emery Oleochemicals is a leading global producer of high-performance, natural-based specialty chemicals. The company is the largest global producer of azelaic acid and the largest oleochemicals manufacturer in The Americas. We offer an extensive product portfolio, including renewable solutions for the Agro Green, Bio-Lubricants, Eco-Friendly Polyols, Green Polymer Additives, Home & Personal Wellness and OleoBasics markets. Emery Oleochemicals is headquartered in Malaysia and has manufacturing plants and Technical Development Centers spanning three regions – North America, Europe and Asia. The company's global operations are supported by a diverse workforce and an extensive distribution network covering over 50 countries worldwide.
For more information, visit https://emeryoleo.com.