Pioneering Innovations
The drive to improve and develop new technologies laid the path to our success.
Did you know?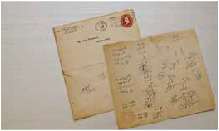 Dr.Twitchell was known to do the calculation for customer quotations directly on the envelopes in which the request letter came, and he filed them that way.They were found in the company files many years later
Since the 1880s, we have discovered and adapted numerous manufacturing techniques to increase the quality and efficacy of our products. Dr. Ernst Twitchell, our first full-time chemist, was a pioneer in the oleochemicals industry. His study of emulsions resulted in forerunners of today's broad line of surfactants. After transitioning from using tallow to stearic acid to produce candles, the company sold by-products comprising glycerine and oleic acid to soap manufacturers and wool makers; research efforts in renewable-based sources continued, focusing on vegetable and tallow-based oils.
Our other innovation milestones include:
1938
The EMERSOL® Solvent Separation process - patented in 1938 - is still used today for the commercial production of high purity stearic, oleic and special fatty acids.
1910
Henkel began pure glycerol production, generating 328 tons of glycerine in the first year alone.
1951
Emery's dimer acid plant came on stream in carving itself a prominent position in ester synthetic basestocks and resulting in fully compounded lubricants and greases for aviation, military, automotive and industrial uses.
1953
The Colgate-Emery Pressure Splitter replaced the Twitchell Process for splitting fat, and our proprietary ozone technology created products used in water treatment, aquaculture and odor control.
1981
Emery began commercializing ethylene brassylate and Rose Ether® for insect repellent, dyes, inks, preservatives and pharmaceuticals.
---